RESOURCES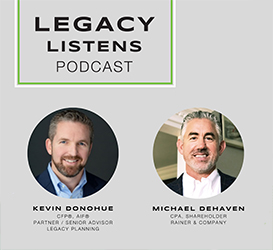 LEGACY LISTENS PODCAST: MAXIMIZE CHARITABLE GIVING
Recently Rainer & Company Shareholder Michael DeHaven joined Kevin Donohue on the Legacy Listens podcast to talk about optimizing charitable giving. How can you ensure that your philanthropy is effective? Mike offers insight from a tax perspective related to legacy planning, and he also draws on his experiences as former Board Chair of the Chester County Community Foundation.

THREE QUESTIONS THAT RETIREMENT PLAN TRUSTEES SHOULD ASK THEMSELVES
The procedures outlined here can go a long way to keep your plan compliant and enable participants to get the most out of their retirement benefits.
---
We welcome you to view our monthly Tax and Business Alert newsletter. Our free Annual Tax Planning Guide is a valuable resource, along with our Tax Organizer. Plus you can keep up to date with timely tax alerts and updates covering current issues. Please choose from the menu below.
View, Print or Download:
Tax & Business Alert Newsletters