OUR SERVICES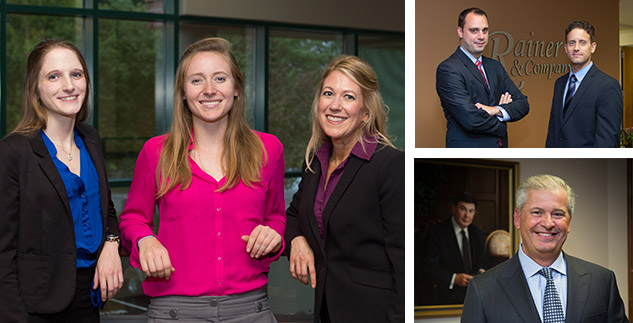 Rainer & Company offers comprehensive tax, compliance and accounting solutions for clients throughout a wide variety of industries. Clients count on us for personal service, practical strategies and quality guidance. Please contact us to discuss your needs.
Services
Accounting & Assurance
We view the accountants' report not as an end in itself, but as a tool that gives clients the information they need to plan and manage their businesses effectively. Our professionals are knowledgeable in the effective management and control procedures for a diverse group of industries. In accounting and auditing, we focus on the efficient application of internal controls and the analysis of financial results. At the conclusion of every engagement, our partners make observations and recommendations for improvements in our clients' operations.
Auditing, reviewing or compiling financial statements
Risk identification and assessments
Accounting and operating control reviews
Preparing cash flow projections and budgets
Audits of employee benefit plans
Compliance audits
Forecasting and projecting financial performance
Cost accounting
Investment accounting
Forensic audits
Agreed-upon procedure engagements
Interpretation of accounting pronouncements
Tax Compliance & Strategies
We offer a full range of tax services, with emphasis on year-round planning and preparation for corporations, partnerships, sole proprietors, individuals, and non-profit organizations. Our tax services group has the expertise and knowledge necessary to provide solutions to your tax issues and questions.
Tax compliance services and planning for corporations, limited liability entities, partnerships, non-profit organizations and individuals
Advice on organizational tax structure
Estate and gift plan development
Assistance with the acquisition and disposition of corporate assets, including mergers, reorganizations, liquidations and spin-offs
Charitable giving and planning
Representation for federal, state and local tax authority examinations
Sales and use tax compliance and planning
Multi-state tax planning and nexus determinations
Business succession strategies
Expatriate tax compliance
Minimizing the impact of the alternative minimum tax
Tax strategies related to your investments
Retirement planning including distributions for qualified and nonqualified benefit plans
Stock option planning
Business Advisory Services
To help you effectively plan your short-term goals and long-range objectives, Rainer & Company offers a vast array of financial and management consulting services.
Advice and due diligence regarding a potential purchase, sale, or merger of a business
Structuring of a business plan
Assistance in the establishment of banking relationships and evaluation of financing options
Providing litigation support and testimony as expert witnesses
Assistance in bankruptcy situations
Long-term strategic plan development
Review of operational and financial controls
Technology and software consulting
Review of proposed investments
Business Advisory Services
Fraud and Forensic Investigations
Divorce Services
Industries We Serve
Construction
General contractors and construction management firms
Construction materials
Heavy excavation and highway contractors
Specialty subcontractors
Homebuilders and residential developer
Employee Benefit Plans
Full and limited scope audits of all types of plans
Tax compliance
Advisory services
Governmental
School districts
Townships
Authorities
Libraries
Health Care
Physicians practices
Dental practices
Dialysis centers
Hospitality
Full and limited service hotels
Banquet facilities, conference centers and restaurants
Golf clubs
Manufacturing & Distribution
Non-profit Organizations
Printing
Professional Services
Investment advisors
Engineers
Architects
Lawyers
Interior designers
Real Estate
Privately owned real estate including residential, commercial, industrial, rentals and hotel properties
Management firms
Sports & Entertainment
Technology Companies
Transportation