MICHAEL DEHAVEN PROVIDES TAX SEASON TIPS AS FEATURED
PANELIST AT WEST CHESTER CHAMBER LUNCHEON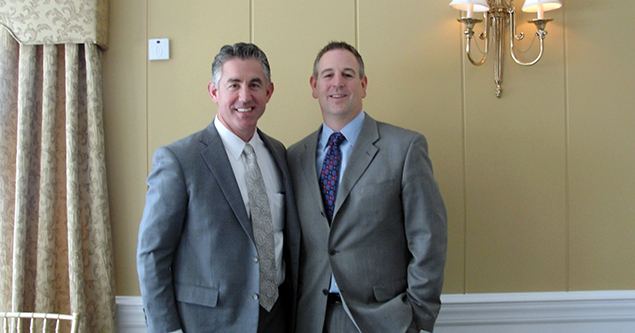 Michael DeHaven, CPA, Shareholder at Rainer & Company, with Mark Yoder, President of the Greater West Chester Chamber of Commerce.
Rainer & Company Shareholder Michael DeHaven, CPA was a member of the panel of tax professionals when the Greater West Chester Chamber of Commerce hosted a luncheon on February 26, "Making the Season Less Taxing for You." Attendees learned how to manage their relationships with their tax advisors, about changes in the tax code, and how to position themselves for a better tax season.
Mike offered the following tips:
It's important to classify workers correctly as employee vs. independent contractor, because the penalties for non-compliance are increasing as a result of the Affordable Care Act.
CPAs provide significant value to clients when responding to IRS correspondence as a result of their knowledge of the protocol to request the abatement of penalties.
It is important to have your CPA represent you during federal and state tax examinations.
For more information, contact Mike at mdehaven@rainer.com or 610-353-4610.
March 2014